Thanks to six years of meticulous preparation, SHU-UTS SILC Business School (SILC) has successively accomplished initial report, annual report, Initial Self-Evaluation Report (iSER), Final Self-Evaluation Report (SER) and other evaluations of AACSB accreditation, and has been qualified for an on-site visit by AACSB. To better prepare the on-site visit, the teachers and students of the school treated the accreditation like an "exam" since six months ago. Several seminars on accreditation were held throughout the school, which enabled all faculty and staff to have a clear understanding of the characteristics and basic requirements of AACSB accreditation. With a very intensive three-day on-site visit schedule, the on-site visit expert panel, composed of deans of three internationally renowned business schools, including College of Business, California State University Long Beach, USA, Bond Business School of Bond University, Australia and School of Management of China University in Taiwan, China, conducted 11 highly targeted in-depth interviews with groups from different departments.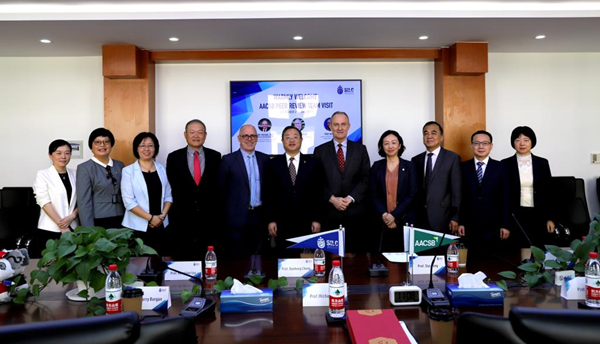 The founding members of the Association to Advance Collegiate Schools of Business (AACSB) include management schools of Harvard University, the University of Chicago, Northwestern University and other world-renowned universities. It was formally established in 1916 and is the world's leading non-governmental accreditation organization for business schools and accounting programs.
The AACSB accreditation represents the highest achievement of business schools in the world. The accredited business schools are also regarded as business schools with first-class teaching quality. AACSB's rigorous accreditation system and high standards are universally recognized. There are only 24 business schools in 'Mainland China that have earned AACSB accreditation, most of which are "Project 985" universities, the top universities in China.