In order to meet the needs of overseas international students, Shanghai University launched online Chinese courses in 2020 and achieved good learning results. In 2021, the school will continue to carry out online Chinese courses, which will not only make it easy for you to learn Chinese without leaving home, but also bring you a taste of the charm of Chinese traditional culture!Welcome to join us!
1、 Program Features
1.1 Full live stream class, interaction with the teacher in a dynamic class atmosphere;
1.2 Provide free courses recorded video which can be viewed repeatedly
anytime and anywhere.
1.3 Teachers will track each students' progress, provide timely feedback
and guidance on homework.
1.4 Free VIP online tutorial class
1.5 Free demo class and free electronic text books.
1.6 Provide a rich variety of online academic lectures of Chinese Intangible Cultural Heritages.
1.7 Provide electronic transcript with credits and electronic completion certificate
2、 Platforms and software
SHU International Education Cloud Platform、WeChat、VooV Meeting--Tencent Video Conferencing
3、 Program Schedule and Tuition
3.1 Program duration:March 2,2021--July 4,2021(18weeks, 20 class-hours per
week)
3.2Demo class and platforms test duration: March 4-5, 2021
3.3 Timetable sample
3.4 Curriculum (For reference only)
SHU provides five levels Chinese courses as following: A level (Beginners), A+level(Beginners),(B level (Elementary),C level (Pre-Intermediate),D level (Intermediate),E level ( Advanced). We will select the corresponding grade for you according to the class placement test results.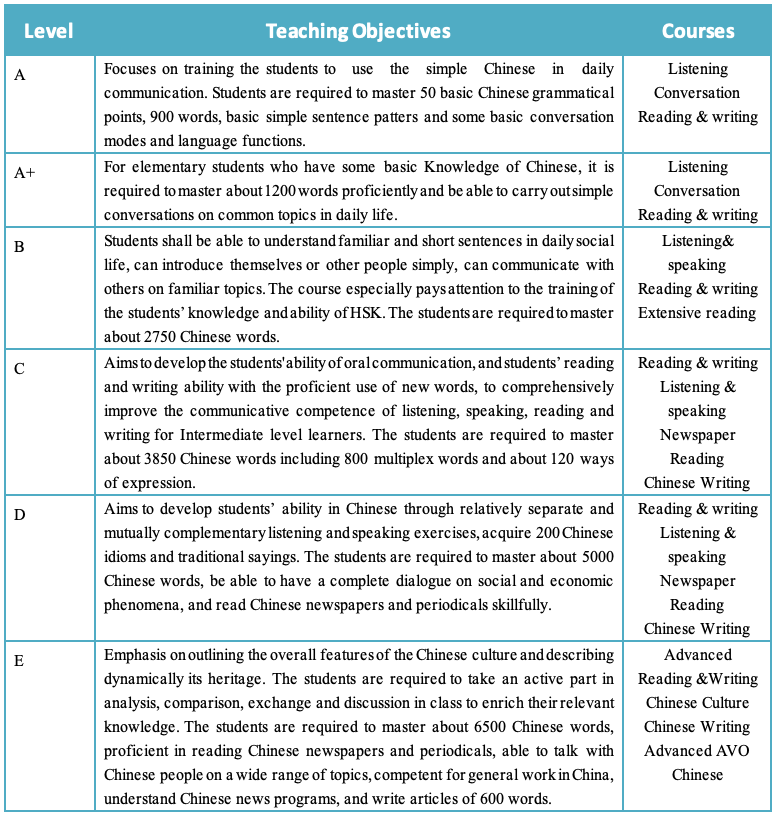 3.5 Chinese traditional culture online academic lectures
SHU provides online academic lectures on traditional Chinese culture for international students, covering Intangible Cultural Heritages such as Chinese calligraphy, opera, music, embroidery, paper cutting, martial arts and tea art and other traditional cultures
3.6Free VIP online tutorial class
Each student may apply for free VIP online tutorial classes. The teaching content and time can be determined according to actual needs.
3.7 Project cost (charge unit: CNY, per person)
Tuition fee:9900 RMB/semester; Application fee: Free
4、Program Certificate
An electronic transcript with 20 credits and an electronic completion certificate will be issued to student who successfully complete the program and pass the examinations.
5、 Procedures
5.1 Please follow the illustration of application procedure (Article 6).
5.2 Pay tuition fees, send payment proof (Remittance receipt or screenshot can
be used as proof) to email apply6@oa.shu.edu.cn before February 28,2021.
5.3 After receiving the confirmation email of your payment, SHU will send
you a self-test standard of Chinese proficiency. Please confirm your Chinese
level and reply your group code accordingly by email before March 2,2021.
5.4 Then you will receive the account and password of SHU International
Education Cloud Platform, please login to test it.
You can scan the group QR code to enter the WeChat group and participate
in the demo class.
5.5 You can apply for changing group before March 15,2021.
Any group with less than five students will be merged.
6、 How to apply
6.1 Please scan the QR Code for registration or copy the following link
www.apply.shu.edu.cn to register online.
Step 1: Click "Apply Now" and sign up with your email address.
Step 2:Select "Chinese Intensive Course (one semester)" in "Non-degree Program", fill in your personal information, upload required files such as a copy of your passport(ID card is also acceptable)and study plan.
Step 3:Submit the application and wait for review within 3-5 working days.
Step 4:After receiving the electronic offer, click to confirm the offer and complete the application.
6.2 Application Deadline
January 25, 2021
6.3 Eligibility
Non-Chinese citizens with a valid foreign passport; graduated from high school or above; between 18 and 45 years' old.
7、 How to pay
7.1For Foreign Currency such as USD, JPY
Beneficiary: Shanghai University
Account No.: 98211454800000228
Bank Name: Shanghai Pudong Development Bank, Jingan Sub-branch, Shanghai, P.R.China(SWIFT NO.SPDBCNSHXXX)
7.2 For CNY
Beneficiary: Shanghai University
Account No.: 033584-00801000968
Bank Name: Agricultural Bank of China, Gonghe Sub-Branch, Zhabei District, Shanghai, P.R.China
Ø Please note that the banks above are the permanent accounts and safe. Any
emails asking you to switch to other payment accounts can be fake messages.
Please DO NOT transfer and contact the coordinator as soon as possible.
8、 Contacts
International Students Admissions Office
College of International Education, Shanghai University
Address:Shangda Road No.99,Baoshan District, Shanghai,China
Post code:200444
Tel:+86-21-66136615
Email:apply6@oa.shu.edu.cn