Shanghai University:
Historical University: Shanghai University was founded in 1922.
School Status: A member university of the project 211,Co-sponsored by the Ministry of education and Shanghai Municipality.
Ranking: 16th among university in mainland China from QS World University Ranking 2019.
Students Source: More than 40,000 full-time students, including 4530 international students from 150 different countries, enjoying their study life in Shanghai University.
Modern Campus: Excellent dormitory, complete with sports facilities, and the transportation is convenient (including direct subway access).
Shanghai University 2021 Spring Semester Online Intensive Chinese Program for International Students has a total of 338 hours. This program is composed of three parts: "Integrated Chinese + Online Lectures + Traveling Experience". Based on the comprehensive Chinese curriculum, we add "Chinese Intangible Culture" courses. This special course will use online lectures, travel experiences, web seminars, work presentations and other forms to enable students not only to master and understand the outstanding traditional Chinese culture, but also to experience Shanghai, a gathering of eastern and western civilizations. The unique charm of the blending international metropolis has a more personal experience and insights into the urban spirit of Shanghai in the new era.
I. Program Features
1. Full live stream class, interaction with the teacher in a dynamic class atmosphere
2.Provide free courses recorded video which can be viewed repeatedly anytime and anywhere
3. Teachers will track each students' progress, provide timely feedback and guidance on homework
4. Free VIP online class
5. Free demo class and free electronic text books
6.Provide a rich variety of online academic lectures on China's intangible cultural heritage
7. Provide electronic transcript with credits and electronic completion Certificate
II. Teaching platform and software
Shanghai University Chinese International Education Cloud Platform, Wodong Cloud Platform, WeChat, etc.
III. Teaching time and content
Time:
March 2, 2021-July 4, 2021 (18 weeks in total, 20 hours a week)
Content:
1. Curriculum (For reference only): SHU provides six levels Chinese courses as following: A, A+ level(Beginners), B level(Elementary), C level(Pre-Intermediate),D level(Intermediate), E level(Advanced). We will select the corresponding grade for you according to the test results.
2. Online lectures on traditional Chinese culture: The school offers a wealth of academic lectures on traditional Chinese culture for international students, covering intangible cultural heritage such as Chinese calligraphy, opera, music, embroidery, paper cutting, martial arts, tea art, etc.
3. VIP online tutoring class: Every student has the opportunity to apply for free VIP online tutoring class. The content and time of the class can be determined according to actual needs;
4. Traveling around Shanghai and Shanghai style cultural experience: Students can follow the anchors through the streets of Shanghai.The teacher will take students to see the Yuyuan Lantern Festival, The Bund International Architectural Complex and The Shikumen Alley in Shanghai.Students can also watch live performances of shadow puppetry, Jiangnan Silk and bamboo, Kunqu Opera, dragon and lion dance.You can enjoy woodcarving prints, Jinshan farmer paintings, paper cuts and other folk arts, learn to cook traditional local dishes, and wear the retro and modern Shanghai style Cheongsam. These will enable you to experience the unique charm of Shanghai culture in an all-round way.
IV. Funding target
1.Non-Chinese nationals;
2.Physical and mental health, good character and learning;
3.Interested in engaging in Chinese education, teaching and related work;
4. The age is 16-35 years old (unified on September 1, 2020).
V. Funding content
International Chinese Teacher Scholarship students who meet the application requirements can participate in the online teaching program of International Chinese Teacher Scholarship without tuition.
VI. Scholarship categories and application conditions
1. One-year trainee
Enrollment in March 2021, the funding period is 11 months.
For international Chinese education, with a Chinese test score of 270 points in HSK (Level 3), with HSKK scores; Chinese language and literature, Chinese history, Chinese philosophy, etc., with a Chinese test score of 180 points in HSK (Level 4), and HSKK (Intermediate) 60 points Points: For Chinese language training, with a score of 210 in the HSK test (Level 3), those who provide HSKK scores are preferred.
2. One-semester trainee
Enrollment in March 2021, the funding period is 5 months.
Chinese International Education, Chinese Language and Literature, Chinese History, Chinese Philosophy, etc., with a score of 180 in the HSK test (Level 3) and an HSKK score.
VII. Application materials
1. Proof materials related to all applicants:
A scanned copy of the passport photo page.
A scanned copy of HSK and HSKK score reports (valid for two years).
Recommendation letter from the person in charge of the recommending institution.
Remarks:
1.Documents in the application materials that are not in Chinese or English must be attached with notarization or Chinese/English translation of the issuing unit;
2. Only the electronic files (PDF or JPG format) need to be uploaded when applying for materials, and the originals must be provided for reference when the journal is opened;
3. Paper application materials are not accepted.
VIII. Application process
From November 10, 2020, applicants can log on to the International Chinese Teacher Scholarship (Confucius Institute Scholarship) application website (cis.chinese.cn) to apply for the Confucius Institute Scholarship.
【1】Log in to the International Chinese Teacher Scholarship Application System http://cis.chinese.cn/account/log in and register an account;
【2】Fill in the application form. Please choose one-semester trainee (online teaching) or one-year trainee (online teaching) for the type of scholarship, and choose the study time and host institution;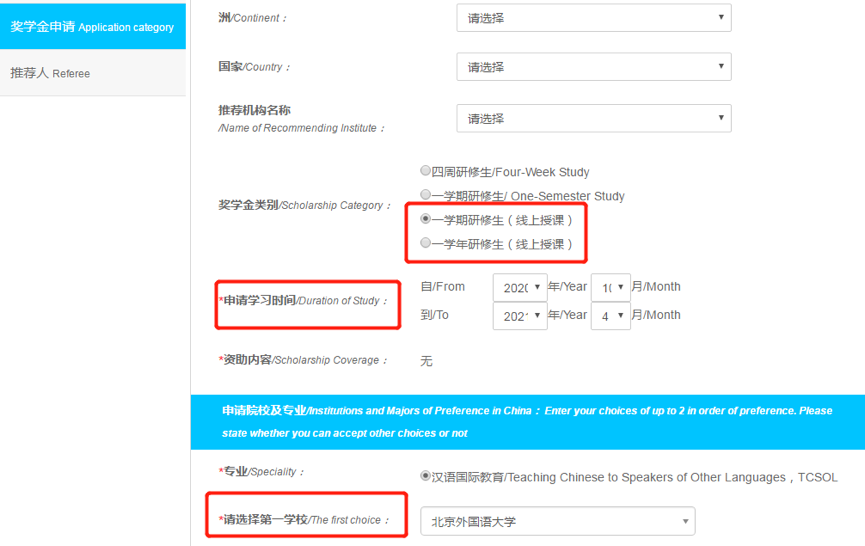 【3】After filling in and uploading all application materials, click the "Submit" button;

【4】Go back to view the application information and follow the progress of the application;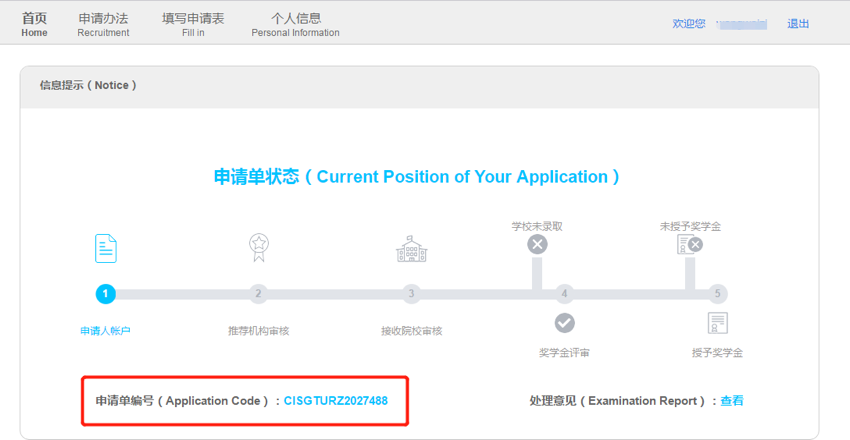 【5】Shanghai University reviews the application materials and conducts video interviews for qualified applicants;
【6】Center for Language Education and Cooperation commissioned an expert group to conduct centralized evaluation, according to HSK and HSK test scores, taking into account factors such as country. The scholarship evaluation will be completed and the evaluation results will be announced about 3 months before admission.
【7】Applicants are concerned about the application process, review opinions and scholarship review results;
【8】Shanghai University will issue admission notices to pre-admitted applicants.
IX. Deadline (subject to Beijing time)
The student application deadline is November 20, 2020.
X. About Chinese Bridge Winners
Those who have obtained the 2020 "Confucius Institute Scholarship Certificate" in various Chinese Bridge competitions should log in to the International Chinese Teacher Scholarship (Confucius Institute Scholarship) website and submit application materials with the scholarship certificate.
XI. Contact information
Office of Confucius Institute Affairs,Shanghai University
Address:Shangda Road No.99,Baoshan District, Shanghai,China
Post code:200444
Tel:+86-21-66136672(8005、8006)
Fax:+86-21-66743200
Contact person:JinQi, Peng Yanan
Email:kzxyshu@126.com
URL:http://cis.chinese.cn
XII. Other matters
1.Applicants must understand the specific enrollment requirements and deadlines of the target host colleges, and submit application materials in accordance with relevant regulations.
2.Please confirm whether your own network conditions and equipment can meet the class requirements.