Dear new students,
Considering the current development of the pandemic, the registration for new SHU international students are hereby notified as follows:
I. Registration Schedule:
The registration arrangements for new international students shall be carried out in a stable and ordered manners in batches or groups. The on-site registration is only arranged for new admitted students who meet the conditions of campus entry and are currently in mainland China. For students who do not meet the campus entry requirements or are currently outside Chinese mainland, please do the online registration, and do the preparation for online learning. The details are as follows: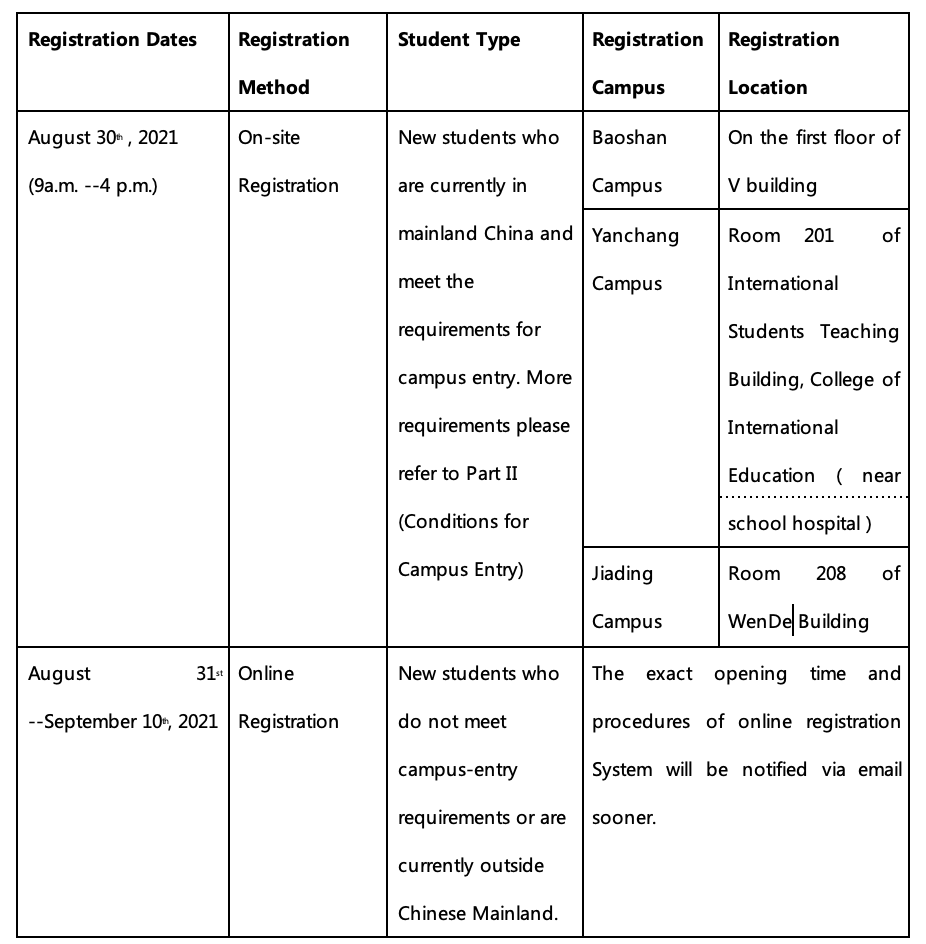 Notes:
1. Please register on the campus according to the study location on your admission notice. Cross campus registration is not recommended;
2. Registration after September 10 might influence your course arrangements of autumn semester;
3. Those who can't register on time due to epidemic situation or other personal reasons need to report in advance and apply for leave. Those who fail to apply and register for more than two weeks (after September 24) will be disqualified for admission.
II. Epidemic Prevention Related Conditions for Campus Entry
You shall meet all of the following four requirements before you are eligible to apply for campus entry for registration:
1. Officially admitted by Shanghai University, currently in mainland China and already paid tuition fee deposit;
2. Come from low-risk areas (or places listed as low-risk areas for more than 21 days). Students and persons living together should monitor their body temperature and conduct self-health observations every day for 14 days. No fever, cough, diarrhea or other symptoms before entering school.
3. Yourself and persons living together have no confirmed or suspected diagnosis and are not close contacts;
4. Students who are currently in Shanghai continuously 14 days before registration can apply for campus entry without a negative report of the coronavirus nucleic acid test within 48 hours before departure.
5. Students who come to Shanghai from other provinces and cities must provide a negative report of the coronavirus nucleic acid test within 48 hours before departure. And do a new coronavirus nucleic acid test as soon as possible after returning to Shanghai. Students with negative test result can apply for campus entry.
6. Students can not return the campus without any permission.
Attention: Please note that you will not get access to school for the time being if you meet the following situation. Please be prepared for online registration and study until you meet the required conditions:
1. If yourself or family members are confirmed patients, nucleic acid test positive, suspected cases or close contacts, you will not be allowed to enter school until 1 month after recovery and the nucleic acid test is negative.
2. Students from middle or high-risk areas will not enter school until the area is declared as low-risk. The university will contact you to confirm courses, new student orientation and etc.
3. New students come from or passing by the areas that have been declared as low-risk areas for less than 21 days should register after staying in the area for 21 days. It is required to have 7 days of centralized health observation and one nucleic acid detection of Corona-virus test within 48 hours before departure. Those who are negative on test can apply for campus entry;
4. Students who are currently in Shanghai but have been or via high-risk areas in the epidemic within 14 days must take two new coronavirus nucleic acid tests, and the test results are negative before they can apply for campus entry. Those who have traveled to other cities in non-medium or high-risk areas within 14 days are required to take one new coronavirus nucleic acid test, and the test result is negative before they can apply for campus entry.
5. Students who are in countries and regions that have not yet opened visas for study in China cannot return to China.
Note: You could check the risk level of each region of the country in "State Council Client (国务院客户端)" mini program on Wechat.
III. Preparation before Arrival at School
1. application for campus entry: for new students who meet the entering requirements, please prepare the "green health code (sui shen ma)"and travel record card for the past 14 days in advance (see Attachment 2), and submit the application for campus entry in the "Health Road ---Student Campus Entry Apply and Review ( including Back to School ) System" before 17:00, August 29,2021. Please upload the screenshot of the "green health code (sui shen ma)"and "travel record card " in the system. For students who are required the nucleic acid testing , please upload the valid nucleic acid testing report in the system. More details please refer to attachment 1.
After the approval of the department, the entrance and exit authority of the campus will be opened. Students who have not been approval are not allowed to return to school in advance.
2. Arrival at School
1) In view of the epidemic prevention and control policy and personal safety, the university does not arrange pick-up service this year. Students can take public transportation to school. For the way of transportation to school, please refer to Attachment 3;
2) Students who come to school by public transportation must wear masks and have protection during the journey;
3) Students who drive to school should lighten the load and get off at the school gate. Cars are not allowed to enter the campus, nor the accompanying personnel.
3. Entering School
The new students shall enter designated campus gate with the student card, passport and green health code. The boarding students can check in the dormitory firstly. The addresses of the three campuses designated gates are as follows:
Yanchang campus: West Gate, Guangyan Road Gate. No.140 Guangyan Road.Jing'an District.
Jiading Campus: Chengzhong Road Gate. No. 20 Chengzhong Rd., Jiading District
Baoshan Campus: North Gate on No.716, Jinqiu Road, BaoShan District.
4.The Regulation of Regular Campus Management
1) Students are required to use student card to enter and exit the dormitory and each school gate;
2) After entering school, students should fill in the daily report every day, otherwise, you will not be able to enter and exit the school gate;
3) Strict regulation will be implemented after entering campus. Students who have entered campus shall abide by the university's relevant epidemic prevention and control regulations. Adhere to "no need to go out of school, no gatherings if no need, and no leave Shanghai if no need", and take good care of self-health protection.
IV. Registration Process and Required Documents
Step 1: Online Pre-registration: confirm personal and academic information, and upload the following documents to the Current International Students Management System:
1. Admission notice
2. Passport Page
3. Visa page
4. All receipts of fee payment (if more than one receipts, please merge multiple ones to one page)
5. Temporary Accommodation Registration Form of Oversea students or On-campus Dormitory Registration Form
6. Highest degree certificate, transcripts and language proficiency certificate (same with the online application system)
7. Insurance receipt (for self-paid student)
Step 2: Official Registration: students who come to registration on site should bring all original and one copy of application documents
1. Admission office staff review documents: check whether the materials uploaded by students are complete and consistent with online application system. If there are improper behaviors such as providing fake materials, admission qualification will be canceled;
2. Financial department confirms students' tuition payment
3. Foreign Affairs Specialist confirms purchase of insurance
4. Counselors confirm the registration status of new students and inform the post-graduate students to complete the registration in their academic school.
Please note:
1) Online pre-registration system opening time and process will be notified by email later;
2) The new students who cannot register on site also need to go through materials review and student status confirmation when they are allowed to back to the school. If there is any improper behavior such as providing fake documents, the admission will be disqualified.
V. Other Important Issues
1. About the paper admission documents
The university has been issuing the scanned copy of the sealed admission notice through email from the beginning of August.
Note:
1) Since the entry date is uncertain for students out of mainland China, paper documents will not be delivered for the time being. Please be prepared for online registration and learning and do not come to China or arrive at school without formal notice for entry. The university will pay close attention to the relevant policies of education administration department of China. The university will inform you in time and delivery the paper admission documents when the visa policies are updated. Please apply student visa (X visa) from the Chinese embassy of your home country before arriving. After applying for entry, please strictly abide by the relevant state and municipal control regulations. Only those who hold the green health code and negative nucleic acid test result are eligible to apply for entering campus.
2) Student card will be delivered to the students who are currently in the mainland of China. But for students who are currently out of mainland of China, the student card will be issued after the arrival of China.
2. About tuition fees
According to the policies of the government and university, the tuition fee will not change in the year 2021-2022, whether the courses is in-person teaching or online learning. More details about payment please check https://apply.shu.edu.cn.
1) New students who register on-site can pay by bank card or credit card (cash is not accepted), or finish the payment via Alipay or Wechat before August 30, 2021.
2) For online registration students, please complete tuition fees payment to the university account via Alipay overseas before 24:00 (Beijing time) August 30, 2021, and upload all the payment proof (including tuition deposit and the rest part) in the Current International Student Management System.
3. Scholarship stipend
If your scholarship type includes stipend, please read the following contents:
1) Students in Mainland China in September 2021
Students who register on time and participate in university courses (including online teaching) will receive stipend normally. Since the new students need to apply for a Chinese bank card after registration, the first month stipend be received around the end of September. Therefore, please prepare one month living expense in advance (about RMB 3000 yuan).
2) Students out of Mainland China in September 2021
Students who can participate in online teaching as required, keep regular study progress and pass the academic assessment shall receive the stipend after arriving at school. But the stipends during the online study period will not be issued. Those who cannot manage to participate in online learning as required can apply for one-year gap (the application deadline is September 30th, 2021).
4. Insurance
1) Students (including scholarship students) who are currently in China need to purchase the insurance before registration. Please log on the insurance website (http://www.lxbx.net) and keep the insurance proof. For details, please refer to Attachment 4.
2) For scholarship students (Chinese government scholarship, Confucius Institute Scholarship, Shanghai government scholarship), the insurance fee will be refunded to students' bank account in the end of September.
3) Only students who are currently in China need to purchase the insurance. Students who are currently outside China temporarily do not need to purchase the insurance.
5. Visa
1) The new students of degree programs in China, if the currant student visa expires before the registration date, they can apply for pre-registration. For details, please contact the admission office staff;
2) Other new students of degree programs in China, can consult counselors about visa application after on-site registration;
3) For degree students out of mainland China, please wait for the visa policy of the Ministry of Foreign Affairs and the Immigration Administration of China.
6. Accommodation reservation
1) On-campus accommodation:
For officially admitted students who have paid tuition deposit and are currently in China, please check in the on-campus accommodation according to the class location.
2) On-campus accommodation arrangement
Baoshan campus: W building (for bachelor students) , Z building ( for master students), V building (for PhD)
Yanchang campus: Shenyuan Building
Jiading campus: Yi Yuan
Please note:
A. Students can only arrive on the day of registration. After arriving at university, you could go to reception to check in firstly;
B. Due to the requirements of epidemic prevention and control, the dormitories on campus will be arranged by university. Students applying for on campus accommodation must abide by the relevant management and regulations;
C. Currently On-campus dormitory reservation is not open to students out of mainland China and those who do not meet the requirements of entering school.
2) Off campus accommodation
Due to the limited numbers of rooms on campus, the university cannot guarantee all students can make reservation successfully. Students, who have no reservation or unsuccessful reservation, please book a safe and reliable place or hotel before departure.
7. Teaching arrangement
New students who are currently out of mainland China should be prepared for online learning. The teaching arrangement of fall semester will be notified after registration.
8. Contacts
The contact information is as follows:
Undergraduate programs: Ms.Zhang Li apply1@oa.shu.edu.cn
Postgraduate programs: Ms. Zhang Tingting apply9@oa.shu.edu.cn
Chinese Government Scholarship and
Confucius Institute Scholarship Programs: Ms. Liu Yuan liuyuan2020@shu.edu.cn; Mr. Hou Meng apply8@oa.shu.edu.cn
SILC Business School: Ms. Gong Anni admission.silc@oa.shu.edu.cn mailto:chloeding@shu.edu.cn
Attachments(Please refer to download area):
1. Guide for daily health report and application for campus entry;
2. Inquiry method of Shanghai health QR code and recent 14-day travel information
3. Transportation to Shanghai University
4. International Student Insurance Purchase Guide for International Student
5. How to activate the student card (for new international students in mainland of China)
College of International Education
Shanghai University
August 23, 2021